1st Tournament from 12-14 May 2017 --- 2nd Tournament from 23-25 June 2017
Beachhandball Cup 2017
The feet in the white sand, the sound of the sea in your ears, sea air in the nose… Experience the exciting Beach Handball Cup in Damp. Be part of it and choose a tournament in May or in June. Feel the unique atmosphere to score memorable goals directly on the beach and have fun together with your team. Besides the games you can enjoy the wonderful beach and the many leisure activities that the holiday resort offers. All in all, the Beach Handball Cup offers the perfect conditions for a great tournament weekend.
Exclusivity
On a private beach section with a fantastic view over the Baltic Sea, we offer you a unique beach soccer tournament experience which remains in memory!
Fun
The tournament games will delight young and old. Everyone who participates in a Ballfreunde tournament goes home with a smile on the face. It's important for us that everyone is satisfied and enjoys a great time.
Leisure Activities
Whether a dip in the Baltic Sea, a visit in the subtropical swimming paradise or in the jungleland, you have the choice. Of course the beach and the sea will be your primary locations to have fun between the games, but the holiday resort offers many more leisure activities on-site like water skiing, climbing, a cinema and much more.
Game Time
The games are of course the most important part of the weekend. So we make sure each team has plenty of playtime – at least 8 games of about 15 minutes each are guaranteed for every team. So your players will be exhausted from giving their best in the sand, but they will be excited!
Ideal Conditions for an exciting end-of-season trip
• high rope course
• beach parties
• shot speed measurement
• beach games
• adventure and nature excursions
• water skiing
• much playtime for ALL teams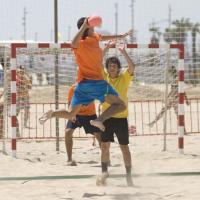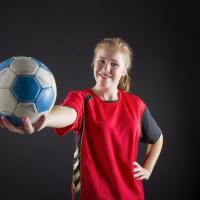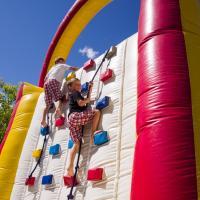 Enjoy a very special tournament and experience an unforgettable team weekend at the beach!
U10/U11 (born year 2006/2007): mixed
U12/U13 (born year 2004/2005): female and male groups

U14/U15 (born year 2002/2003): female and male groups
U16/U17 (born year 2000/2001): female and male groups
U18/U19 (born year 1998/1999): female and male groups

in tents: directly at the sports complex. Sufficient sanitary facilities are nearby, you need to bring your tent, an air mattress/sleeping mat and a sleeping bag.
in Nurdachhäuser (bungalows): the 2013 renovated bungalows are free-standing houses for up to 6 people. On 2 levels here are 2 bedrooms, a bathroom with shower and a living/bedroom with dining area, flat-screen TV, furnished terrace and fully equipped kitchen.
double or multi-bed rooms in the hotel:
the rooms are equipped with a bathroom with shower, telephone, hairdryer and flat screen TV. From the balcony you have sometimes a view over the sea. Accommodations are directly on the beach. Short ways are garantueed.
own arrival:
The journey, both to and from the tournament location is organized by yourselves. 
 Sometimes it's good to have a car at the tournaments destination.
bus transfer:
You will be picked up at your clubs address and will get there back in the same way. At the tournaments location the bus is available for your team to do activities in the surrounding area.
train transfer:
We will arrange train travel to and from Eckernförde train station.
3 days halfboard accommodation & tournament fun
from €75 for full participation.
Included services:
Overnight in booked category
delicious and rich breakfast
sophisticated dinner in buffet form, appetizer, main course and dessert
varied program (survival course, team games, Torwurfgeschwindikeitsmessung etc.)
We look forward to seeing YOU!